899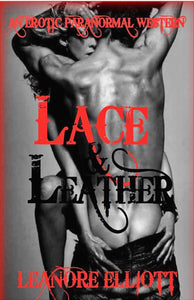 STAND ALONE-LEANORE ELLIOTT BOOK
An Erotic-Fantasy-Western
145 pages
When Lacey Stevens meets Jess, she couldn't believe her eyes. He looked like he'd stepped right out of a Western Black & White movie. He sounded like it too.
When she'd come out to the desert to do a land survey for her company, she never knew she would get caught up in a fight for her very life.
She also never knew that Jess, AKA Leather would be taking her on the most terrifying, exhilarating and sensual ride of her life.