899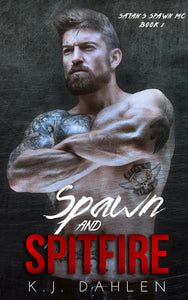 The Story That Started It all...
BOOK ONE Of The Satan's Spawn MC Series
When Cassie comes to Troy, New York, looking for her best friend Peaches, she meets Deke Tory and her world is never going to be the same. He is formidable, magnetic and not like anyone she has ever met. Deke is president of the Satan's Spawn MC and while he lives by a certain set of rules, Cassie grew up differently. She grew up on the streets from the age of ten and the only rule there…was the rule of survival.
Deke finds himself drawn to the Spitfire girl who appeared out of nowhere. Can he break down the walls she has built up to protect herself? When Cassie and Peaches are reunited, their past comes back to haunt them. Someone from their past wants them dead to hide a terrible secret.
Can Deke protect her—can he even hold on to her?
They have to find a way to survive and Cassie has to find a way to keep a promise she made to her friend, Peaches when they were ten. She has to find Peaches' family and reunite them. Will they both survive long enough or will their past swallow them and keep its secret for a little while longer?