899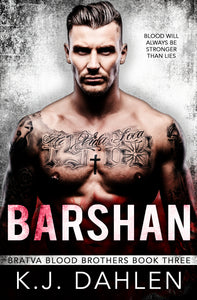 Bratva Blood Brother Series
Blood Brothers Book #3

Barshan


When he meets Talli she intrigues him, she doesn't seem to care who he is, in fact she rejects him and that has never happened before. Women want to attract his attention but she doesn't care about his looks or money.

She's spunky and contrary but she's got secrets he needs to learn in order to protect her.
He doesn't want to break her instead he wants to protect her and he's never wanted that before,
Someone is after her. They have to figure out why and how to stop him.

Can they find her secrets before her stepfather finds her families vault and gets whatever her father hid there 11 years ago? Something that might start another civil war at home?

Talli

When she see him for the first time, she remembers something her father told her a lifetime ago, never get involved with the Bratva but she can't help it. He sparks something inside her she never thought she'd feel, desire. He made her heart pound in her chest and that never happened before.

She can't get involved with him, but she really wants to and for the first time since her father died, she feels protected in his arms.
Her father hid too many secrets from her and she was too young when he died to understand the reasons why.

When all is said and done and Barshan comes to rescue her from her stepfather that means something to Talli.
It shows her that she isn't alone anymore and she does have a family again.