899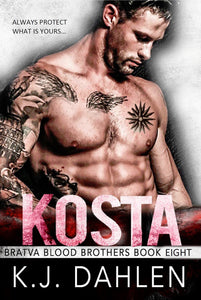 Kosta
I have protected the Bratva all of my life. It was something I was born to do. I would protect the brothers with my life if I had to.
Then I met her and I knew in that moment, she would be mine. I would now protect what is mine.
The life I live has many pitfalls and we all have secrets we can't share with the world, but I want to share mine with her…
Except her secrets could get both of us killed.
Can I keep her safe? I have to or my life might as well be over. Once I have her, I can't imagine life without her.
Sahara
I have always lived on the edge of life, too afraid of being noticed by the wrong people, until I was…
I had one friend when I was young, we were true sisters for at least a little while, then she was gone and I was alone again.
When I was grown, she came back into my life and we picked up where we left off all those years ago.
She brought Kosta to me and he completed me like no one else ever would
But my life wasn't mine and the demons in my past refused to let me go.  Could I risk the wrath of my demons to have a life with him?
He gives me the courage to stand up for the life I want… with him. I can't let my demons win.