899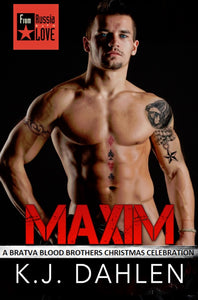 Maxim
We, the Iron Bears MC were just getting back on our feet when we got more bad news.
After spending ten years in a prison for no crime at all and another five years on the run until we were able to come back home. Now two years later, we had to face death one more time.
But I'll be damned if I will cower in fear ever again. This time, we have our futures to fight for. But this time its not just us, its everyone, Sergi, Misha, Nikoli and even Timor and their families.
They are all in the states to celebrate the holiday with their families.
I can't allow them to be pulled into this fight without at least warning them. We all face the devil himself but who will win this battle? Its anybody's guess, until I find a reason to live and her name is Katarina.
And I find out she's running from the same madman I'm trying to stop…
Katarina
We all have secrets but my secrets are life altering.
I hate only one man in this world and its for a very good reason… he deserves it. When I can no longer stay in the place I was born, I leave it to start over in a new country, a place I have to hide in. I truly hate the fact I have to run away to live, I really hate this man but I'd hate just as much dying by his hand. I have to live long enough to tell the world who he is and try to stop him.
Then I meet someone, only to find out we hate the same man. Will Christmas magic save us or sink us?
This holiday season has more on the line than normal… will it all work out? Either way, she doesn't regret meeting him and at least she found real happiness as fleeting as it might be.
…. tis the season for miracles after all.