899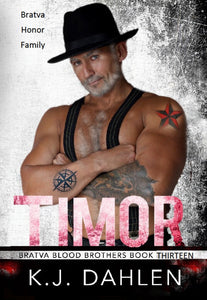 Timor

So much has changed in the last year or so, I discover a son I didn't know about before and lost the son I had thought would take my place when I was finished with my work. I've spent my entire life serving the Bratva and now, I want to retire.
But I don't want to miss any more of my son's lives. I've already missed too much.
They won't come to me, so I will have to go to them but if they can start over in a new country so can I.
Then I meet her, Daisy. I've never met anyone like her before. I'm not ever sure I like this woman but I can't stay away from her.
Then someone from my very distant past comes round to take from me what he thinks I took from him, my woman.
I'll be damned if I let him take my Daisy, come hell or high water he won't take her not in that way. I'll kill him first,  maybe something I should have done a long time ago…
Daisy
I had lived, loved and lost and learned to do without in my lifetime but the moment I met Timor, I found something extraordinary, something a woman is lucky to find only once in her lifetime.
I've never been a shrinking violet kind of woman, if I wanted something I reached out and took it, well I wanted Timor.
Then danger came to call and Timor got in his head that he needed to protect me. Hogwash, I could take care of myself, I just had to show him I guess…