899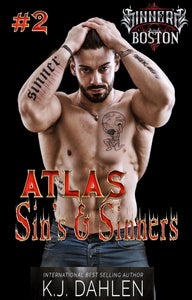 Atlas
When we followed V to rejoin the Sinners of Boston, he'd been looking for his sister for a very long time. With help of the club, we found her. Then V found the woman that had taken care of her for all these years and claims her as his.
Now we're trying to settle in and be a part of this club once again. But the past has a way of coming back no matter how hard you don't want it to. Boston is a dangerous town and we run into something that stops us in our tracks. Someone connected with both the club and V's new woman wants to wipe us out of existence—but we aren't going anywhere. When he tries and fails to get to us head on, we find a deeper secret he's been hiding for a hell of a long time. And it's more deadly than any of us know…
Abby
After Shea found me down in the tunnels, I didn't want to remember the reason I was down there. I didn't want to talk about it or even think about but the day finally came when the truth had to come out.
I couldn't keep this secret any longer. It all came out when Shea saw her uncle or who she thought might be her dad? Standing outside the compound. His sudden appearance triggered the reason I was down in that damn tunnel in the first place.
Like dominoes, the truth finally came out, making clear the depth of Caliber's complicity in a plot that would destroy Boston. Well, the Sinners and Leon Vincinti aren't going to let that happen and when they fight back, anything is possible. Lord help us all…