899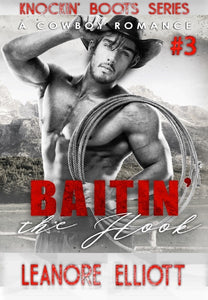 BOOK#3

*Maggie: If she doesn't end up killing him, she may just be starting to believe Jet, the Cowboy Sundae who says he really wants to be with her. She is determined to wear her Poker face. Then, the tables turn and she finds she wants to fold.
*Brea: Things go sideways when the glorious M&M cake turns into to a sloppy tossed salad, as something horrible comes out from Cole's past. Can Brea overcome it and keep her hot cowboy fiancé?
*Daisy: After beating down a set of twins from hell to protect her daughters, she realizes the 'date' is getting closer and she's getting the knocking knees. Will she take a chance this time or will she take flight again?
*Kanda: Discovers that Wade likes food fights, loofahs and he has something beefy to tell her. Can she really handle this man from down under who turns her on and over?
*And in this Book, we will be introducing the Noble and the Payson Family: Valeen, Victoria, Quinn & Jared Noble, along with Breen & Jude Payson.