899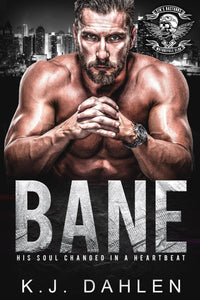 Hope and light… I have neither…
Bane
My life revolved around death, they told me I had no soul.
Until I met her, my Grace.
She brought a secret sunshine to my life, until she didn't. She left with my brother.
Then I met her daughter, and she desperately needed the skills I've honed over the years.
In the end, it didn't matter, all I knew was that I had to protect Grace's child.
I did what I had to do. I did it for my Grace, my own saving light.
My life might be over but I'll make sure she will survive.
In my dying hour, I was saved by an unexpected source.
A man who'd once been part of my dark world offered me a do over.
I took it and vowed to become a better man.
I then met Sarah.
Her warmth and friendship held me up on the darkest days of my recovery.
For the first time, I felt alive… for the first time I actually felt.
Now, Grace's child, Cricket needs me again. In fact, she needs the man I used to be.
The killer…The heartless assassin.
Can I kill again? If I do, will the beast in me take over?
Sarah
I lived in fear, people are hunting me for a crime I committed a lifetime ago.
I killed a man who deserved to die, then I ran away.
I've been running for a long time now and I gave up everything just to live another day.
But the past always catches up and now, the man I'm with wants me to face my past.
Can I trust this man with the whole truth and face my fears or do I continue to run?