899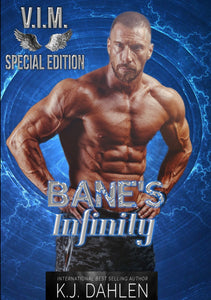 Bane
All my life, I felt different from everyone else that never bothered me before as my grandfather began training me at the age of 2 ½ to become someone people would whisper about in the back alleys of the world.
Then when I reach the end of my life, I got offered a redo and for once in my life, I wanted something different. I knew there was something more out there and I wanted to see it, feel it, and live for the first time in my life.
I took it and now I realize I got so much more than even I bargained for. I met and fell in real love with Sarah and she became my world. Then she told me she was carrying my child. I didn't know if I wanted another child after all what kind of father would I be? I didn't know and for the first time in my life, I was afraid…
Sarah
My life had been nothing but fear since my mom remarried a true hellwhore. But when I met Bane, I found my calm, my safe place in life. He might be someone the rest of the world feared but for some reason I never did.
Then I found a piece of him growing under my heart and I wanted that life, I wanted my child. But Bane's old life kept coming back, one small piece at a time. He thought he was alone and there was no one left of his family, but that was a lie. He found his twin brother, another brother, and his father. Then he found dear old mom.
But was he strong enough to be the man I need him to be? With one foot straddling the line of the past on one side and the future on the other, how long can he stand there alone? Then someone threatens us, his future and he steps both feet on one side of the line. Will he forever be stuck on the side he chose or will he be able to come back to our side? We need him but does he need us?