899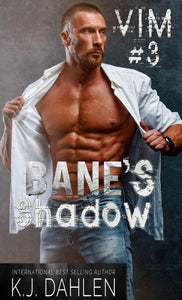 BANE'S SHADOW
I thought I left this world behind me two years ago, but my past won't stay as the past. After I settled an old score, I went back to Troy to collect the woman I want to bear my name, only to find a file left to me by a man who never should have known what was in that file. Leon Vincinti has tripped over some deadly information that threatens my future.

 The information Leon brings to us, tells a story that I never knew about. A story that has yet to conclude and it brings a shadow into my life that shocks us all.

While the VIM team and I are looking into what this file points to, I spot another nightmare from my past and this man is pure evil. I let the police handle him the first time and he should have spent the rest of his miserable life behind bars but he's free and now, I find he's after someone innocent. This time, I have to stop him forever, as I know what this man does to his victims.

But I find I'm not alone in this hunt, my VIM brothers are standing at my back… then I find it only takes one shot for all hell to break loose... just one shot.