899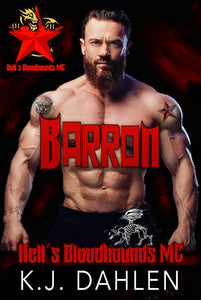 A SPECIAL EDITION
A Russian MC
Barron (Red) Valerian, Prez of the Hell's Bloodhounds MC gets his cycle stolen.
When he and his men find the thief, his whole life changes.
As a consequence, his MC has to fight for their lives, as an old enemy from Mother Russia comes to call.
 ******************
This series book came from a Chapter Story that was written 2 chapters a week as my readers read along with it at my Website. They took the journey of spinning a Story and it was the experience of a lifetime for all of us.
Barron, Book One of the Hell's Bloodhounds MC does have Cameos by  Kosta, Barshan, Sazon, Yuri, and Nikoli of the Bratva Blood Brothers Series books.
I hope you enjoy the book and the series.
K.J. Dahlen