899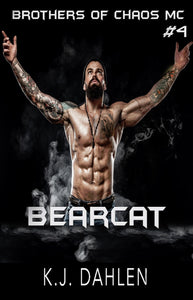 Bearcat
I'm the club enforcer, yeah that means I'm big and I'm mean and I can fight. No body usually messes with me, cuz they know I can beat them down.
But trouble comes to the club in the guise of a woman with a secret. A secret she doesn't want to share. The moment I see her is the moment I know she's meant to belong to me. I never believed in the ideal of one man to one woman but with her, I do.
At the same time, the feud between our MC and the Blood Vikings is heating up. Odin tries to blast us out but all that does is cost him members
We upped the game and got him in trouble with the cartel along with an underground group and now, he's on the run. Only problem is he keeps running back to us and we don't want him.
Then he comes along and he thinks he's got a claim on my woman. I'll be damned if he's gonna take her away from me now. Not when I need her more than I need air to breathe.
Dixie
 I came here with a message from Shelby but I also came here to hide from someone who wanted to hurt me. I never expected Rodney to carry things this far, but he did. He followed me all the way from Oklahoma. Now, he got himself caught up in an MC feud.
Big men usually terrify the bejesus out of me but Bearcat doesn't. I trust him when I learned a long time ago, not to trust anyone. He makes me feel safe in a very unsafe world. We just seem to fit.
Then lies and betrayals are played out and I'm left out in the cold again. Now, the one thing I cling to is the light in Bearcat's eyes. I have to believe in him, my heart tells me I have to.
Will he come through for me? I'm not sure I can live without him now…