899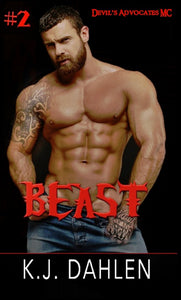 AUGUST 10TH
Book #2 Of
Beast- Nick King
We all came here for a better life, a life without boundaries but we all had honor.
We defended what was ours to defend and we won the day. Now we watch for more trouble coming our way.
And it does come in the shape of a woman born on this land, banished by the old MC Dogs of Hell.
We need to find out why she returned and if she's in danger.
When she disappears I know I have to find her, I don't know how or why but that girl belongs to me and I want her back.
Cinnamon Shay
I returned to the farm I was born on, to return my Grandmother Kate's ashes to the place where we buried my granddad so many years ago. I didn't want to return but it was her last request. I had to do the right thing.
They were together right up to the day he died, but those were memories best left alone. You can't change the past, only look to the future. The memories of that day are what my nightmares are made of.
Now I'm back but some things have changed, there's a new MC is in charge but when the past comes back, it comes back with a vengeance.
I'm taken by an old enemy for reasons he won't tell me but I can only hope Beast can find me before its too late. He has become someone I can't seem to forget or live without.