899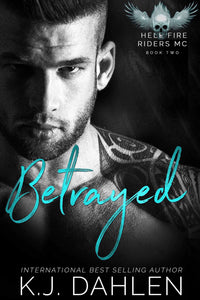 Hell's Fire Riders MC
BETRAYED
Book Two
When an unusual messenger shows up at the Hell's Fire Rider MC Compound, she asks for Dewey Mann, Stone's VP. The message she brings delivers Hell to their door.
When Dewey first sees Trudy, he thinks the worst. Who is she and who sent her? Then he cannot help but to be drawn to her as he begins to feel like a moth to a flame. He needed to tread carefully as she could mean the destruction of their entire organization.
Trudy has been hiding almost all her life from the Cartel after she sabotaged them, years ago. With her smarts and computer skills, she has remained untouchable. That is until she meets Dewey, a huge man leading other huge, scary men. What is it about him that keeps her focused on him?
Can the combined MC's and their teams of Ex Veterans stop a madman who intends to literally tear the United Sates apart? Or will they all burn when one of their own betrays them?