899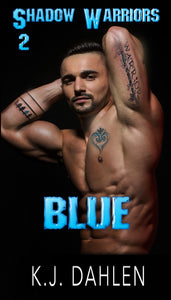 Full Novel
Blue
When a friend called me for help, I didn't realize just what he was pulling me into, a world of espionage and murder.

I find out the bad guys attacked him in his own home, killing his wife and her lover… what a mess. Then the bad guys made another mistake, they went after us. And that's a call to war, one my club won't stand by without hitting back…
Whoever they are, they stirred up a hornet's nest and now and it's called the Blue War.
Denny
Finding Alec Maleet with his dead wife in his arms, I discovered more than either of us bargained for… but then Alec led me to him, Blue. On a whirlwind journey, we all raced to solve a puzzle and find a killer.
I'm good at my job, in fact I'm one of the best there is. Teaming with Blue and Alec is a  trip all by itself. What we found is way beyond unbelievable. But believe it, I did. We have very little time to find the what and who behind a plot that never should have been dreamed up in the first damn place.
The three of us bring the truth out and let the chips fall where they may.