899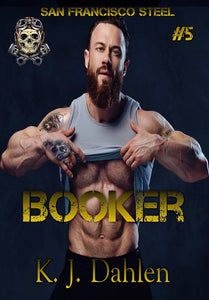 PREORDER FOR OCTOBER 26th
Booker
I joined this club with two strikes against me and now I have a feeling I'm facing my third strike. Three strikes and you're out right?
I will do anything to protect my club, my brothers and my woman.
The day I met her was a day I'll never forget. She came into the club and certain circumstances made it impossible for her to leave.
We discovered a traitor among us but it wasn't the one we thought. Now only the worst of the worst of Venom's Tears is left alive and they are coming for us.
We only have one chance to get this right… I only have one chance left, but they'll have to get through me to get to my brothers. I can't lose this battle. I have to protect them and her.
Quincy
My life has been one shitstorm after another, until I found my way to training service dogs. My brother came home from the war with severe PTSD. He was the only one who ever cared whether I lived or died so I had to find a way to help him.
I found I had a natural talent for working dogs and that became my life. Then I met Booker.
I also found I had a bullseye on my back from a warring MC after Booker's MC. I could leave or I could stay with him.
I decided to stay…
Road Captain- Booker aka Malachi Crew 31 years old. 6'4" .. Weighs in at 290 ...shoulder length red hair and scruffy beard, green eyes.....Quincy Marlow dog trainer .. 28 yrs old 5'5"   long red auburn hair... Friend to Ivy Choler for 7 yrs.. has an older brother former marine wounded, and has a hard time being accepted due to PTSD…helps with her dogs as well and becomes close friends to the MCs