899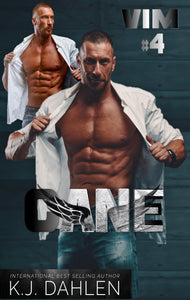 In this installment of VIM (Vengeance Is Mine)
The serial killer called Pentagast has a lot to answer for... The murder of Bane and Cane's grandfather tops the list, and the many murders of victims spanning twenty years...
After some grizzly puzzle pieces are finally put together, the VIM team finds that this killer has touched all their lives in a bad way.
Leon Vincinti wants revenge, Cane wants revenge,  a woman named Valencia wants it too, and an end to it all.... then of course, Bane wants revenge.
The Priest and Ghoster have their hands full with trying to make them see that revenge is dangerous as they all will learn if... Vengeance is Really Theirs.
Cane
When I found my brother, my twin I also find a piece of me I didn't know I was missing. Why we were separated is still a mystery but before we can find out why, one of the group my brother is with gets a personal phone call from Leon Vincinti... For a personal favor. That's a call they can't ignore, so we go to Boston.
Bane has told me of how our grandfather was asked to take a job to hunt down a woman and kill her, but he returned the deposit and turned down the job. Then he died for returning the money. Turns out, this very event is linked with Leon's personal favor.
For eighteen years, this woman has been in hiding and now, the killer is back in town looking for her. Leon thinks he's closing in and we are here to help stop this madman. When I see her, I know she's meant to be mine... I will protect this woman, right up to my last breath…

Valencia
I've faced death before, I watched my parents die in front of me, I watched my older brother die in front of me, but I will be damned, if I will die by the same killer. I spent over half my life in hiding and I'm not going to hide from life any longer. Cane offers me a way out and I'm taking it.
Let this killer come for me, he'll find out I'm not as easy to kill as he thinks. Cane makes my heart pound in my chest and I'm not sure why but I'm willing to find out. He also likes to piss me right off and that might not be as safe as he thinks it is either. I guess time will tell on that.
With my help, the VIM team is able to track this family of bastards down. When the showdown comes, I find a way to get closure. This is a fight between this killer and me and I'm not willing to give him another inch of my life.