899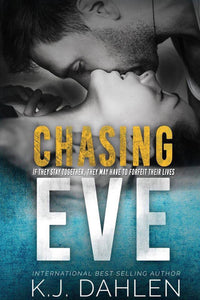 Chase
I wasn't looking to find her but I did. She was broken, lost and didn't even know her name, but there was something about her I couldn't let go.
Then someone came looking for her and I knew I had to protect her.
 Until the truth came out, I would stand between her and whatever was waiting for her I found her, I should get to keep her, right?
Eve
I saw something I shouldn't have and I had to run or die. I wasn't ready to die yet, despite the men who followed me that night.
 Then I wake up and don't remember anything, not even my name. Then I look in his eyes and see another possible future and I want it, I want him.
 But my past demands to be settled and I have to remember what I was running from. Why can't I remember why or who I was running from?
Will he wait for me to deal with my past or will it forever haunt us?