899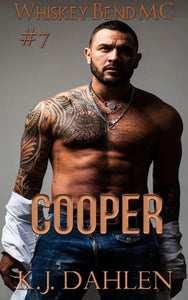 WILL RELEASE MARCH 28th
Cooper

I've worn many hats in my life, Marine, US Marshal, cop but the one I loved the most was husband and soon to be father. Then I met Jackson Hale and he took everything I ever cared for away from me. He took my wife and unborn baby's lives and left me with a hole where my heart used to be.

I left my US Marshal job and became a cop but my heart wasn't really in it anymore so when my friends Shadow and Noah left to join the Hell's Guardian Warriors I went along with them.

That's where I met Shadow's sister Nora. I tried to keep my distance I really did, but she wouldn't let me.

Now, with the heat focused back on Jackson, he comes back to try and take my life again. But I'll be damned  if he'll win this time. It's time to step up my game and the hunter will become the hunted. I won't let him take Nora like he took my wife.

Nora
When my best friend was in trouble I called on my big brother to help her. He brought us both back with him to a small town in Wisconsin, Whiskey Bend. He helped my friend and we both stayed.

I found something in that small town I didn't know I was missing. Cooper. I don't know his whole story yet but I want to. Oh, do I want to. But he won't let me get close enough to him. He turns me away at every turn.

Then something from his past comes after him and threatens him and the MC.  They aren't going to let the ugly past happen again so the fight is on and the last man standing wins the fight. 

Only question is who will be the last man standing?