899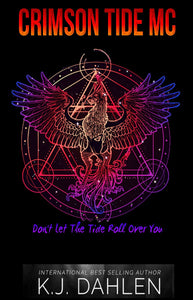 Don't Let the Tide Roll Over You
Over 1,000 Pages
Tracker
We're tracking a dangerous man, a drug dealer/designer. So we are here to take him back and stand a tribunal, at least that was our plan until she showed up. 
Boomer
On our way back from Port Allen, we run into a little trouble in the form of a woman with a robin tattoo. We may not have started this fight but I'll be damned if I will run from it. 
Cyrus
Things were starting to settle after our battle with the Cartel, the Boas and the Liars. We thought things were going back to normal, we were wrong and almost caught unawares.
Clovis
I also almost lost a good woman I wanted very much to know better. Robin. When we found her, she looked like a broken little bird and I couldn't help but be drawn to her.
Vance
Things are hot right now in Lake Charles, with the Wheelers on the loose and the Advocates coming over to parley. It is getting dicey…
Tether
For every action there is always a reaction… but I never knew this was true until we started going after Richard Keller.