899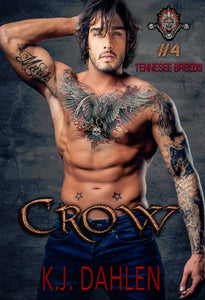 RELEASING JAN. 29th
Crow
As a former Marine I've been in many battles and I've seen hell up close and personal. The day I came home I bought a bike and took off down the road on a one-way trip. I found a new home here on Tarron's Ridge and a family with the Rebel's Blood MC
I was happy here until trouble came looking for a place to happen and her name was Penny
She followed my brothers back to the compound, looking for answers to a tragedy that happened years ago from the one man that held all the answers.
Brian Williams had a lot to answer for but she wasn't the only one seeking retribution from this man. Others were on their way to even the score too. It was up to the Rebel's Bloods to keep him alive to answer for his previous sins.
I wasn't worried about keeping him alive as much as I was keeping her alive.
Penny
Brian Williams had the answers I needed to questions almost sixteen years old. I'd been looking for him for a very long time and now he was so close, I could hear him breathe.
I was told a long time ago to leave the past in the past but I couldn't do that. I wanted to know what my mom saw that she had to die for.
But it seems I wasn't alone in my quest for answers. Some one else wanted them too. I put everyone's life on Tarron's Ridge on the line and only the Rebel's Blood MC could save us all
Will I ever get my answers or will I get a bullet for my troubles?