899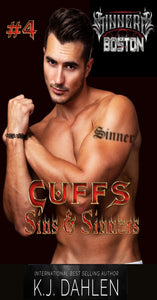 This Book Is Live

Roses And Dreams...
Cuffs
I'm ambushed on my way into the city, they shot out my tires, then they shot me, leaving me to die alongside the road. Then a woman saves me. She gets me to a safe place and tends my wounds, then my MC brothers show up and she tells us what she knows.
Silvia, she's a woman with secrets and her family wants her dead but they are going to learn we don't always get what we want. I'll take a bullet for her but I'll also shoot someone for her too…
Silvia
My life hasn't been an easy one but I survived. My mom disappeared when I was ten and my dad went to prison when I was twelve. My brothers ran the streets long before that. And me? I fell through the cracks and ended up on the streets.
Then I met him, the first man my brothers shot and I know there's more at stake here. I also learned the truth about what really happened to my mother. My life will never be boring again. Cuffs has promised to keep me on my toes for the rest of my days, I can't wait.