899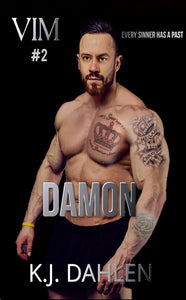 The Next Book in The VIM Series
Every Sinner has a Past...
Damon
When Levi Silvers met the Savaged Souls, he went down. With some help from some new friends, he and his organization was taken apart brick by brick. And I was offered a do over. A once in a life time offer, to start my life over. After working for Levi for over twenty years, it was time to move on to bigger and hopefully, better things. After I got the bad aftertaste of taking his orders out of my soul.
I did a lot of bad things in my career but there was only ever one regret. Once upon a time, I had a wife and son. I lost them when I was fighting for my country and I never really knew why. Bane offered me the chance to find out the why. So, I took it.
That's when secrets of twenty years ago were revealed and I found an enemy I didn't know I had. But tracking him down also led me to her. My enemy was still out there watching me but I couldn't leave her behind.
She was the missing piece of my soul. When I met her, things just clicked and I knew I had to protect her above everything else. Then my enemy made a fatal mistake and tried coming after my woman. One of us will die before this is over….
Aly Bella
After a lifetime of moving from place to place, always looking over my shoulder for someone deadly, I finally settled down in a small town in West Texas. Here, no one knew my name let alone anything about me and that was fine by me.
I was sick of hiding and so sick of running for something I hadn't done. Then he came along. As much as I wanted to ignore him, I couldn't. He drew me in and wouldn't let me go—to tell you the truth, I didn't want to go.
I wanted to stay with him. He made me feel safe and wanted. Something I never felt before. But would the secrets I shared with only one other person tear us apart or would it end the lies I've lived with everyday for the last twenty something years?
Did I have the courage to find out or would I have to run again—this time from him?