899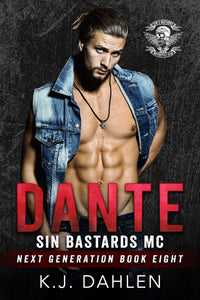 RELEASED SEPT. 25th
For the Hell of it—
Dante and Andi
Dante Morgan is the carefree Morgan. He likes to race both bikes and hotrods. Life is just too short to get serious about everything like his brothers.
Then someone starts messing with him in a dangerous way and he has no idea why. He needs to find out though, as he has lost two races because of it already. And with someone tampering with his life, he could lose his life.
When his brothers taunt him into asking out a less than perfect girl, he asks her out. Why not? So he does it like he does everything else…Just for the hell of it. Then he discovers that Andi is really nice and truly smart.
Then someone targets her and ruins her life.
When Dante sees the pain in her eyes, he realizes that he really does care about her but now, she wants nothing to do with him at all….
Can he win her back?