899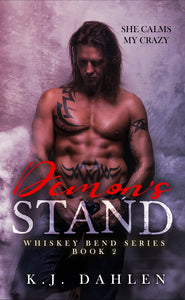 Demon
I was damaged by memories of the war we couldn't win.
Then I met her and she changed my world. From the moment we met, she calmed my crazy.
She couldn't remember her past and that put her in danger.
There is a killer out there waiting to strike but I'll be damned if I'll let him take her from me.
I vowed to keep her safe. I needed her too much to let her go. I'll be damned if anyone will take her away from me.
Shiloh
I was lost when I found my life had been built on a lie.
Then he came in my life and the first time I saw him, my heart stopped.
 I remembered my nightmares and knew they were coming back to finish what was started so long ago.
I couldn't run away anymore… I had to face my past.
A past that held too many secrets, a past that someone would kill to protect.