899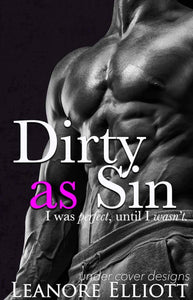 A Highly Erotic 220 Page Novel By Leanore Elliott
Meet Man Of The Night, Sexy Rex…
Rex Harris lives the dream of every man and he is the dream of almost every woman. An aspiring actor on some days and a man who knows just how to please any woman, no matter their size, shape, age, or sexual fetish and he's a perfectionist. He works at both of his crafts, acting and bedding women. He thinks he is happy and has everything a man could want.
Deep down, however, Rex yearns for one woman. A woman that disappeared on him some years back. Ava had left him heartbroken and set him on the path he is presently on.
When a mysterious woman buys up six months of his client list, he wonders who would do such a thing. When he finds out, he knows he is in trouble. It involves Ava, the love of his life. He'd been hired to wreck her life. He suddenly finds himself in a situation full of secrets, turmoil and betrayal.
Can he come out clean? OR will Rex remain…Dirty As Sin?