899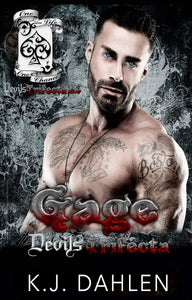 DEVILS TRIFECTA MC
BOOK ONE
Sable
Sable Quinn has an admirer... One that she doesn't want. A serial killer in fact.
Then she gets another admirer...only this one changes her life.
One wants to kill her. The other wants to save her.
Will she survive to have a chance at life?
Gage
He's been on the road with his club for more than a year. On the trail of a killer. His club turned Nomad to exact justice.
Searching and almost getting him. Then he slips away like a ghost.
Then this killer changes his pattern. He finds a victim he wants to play games with.
Gage just had to meet her.
When he does, she changes his life.