899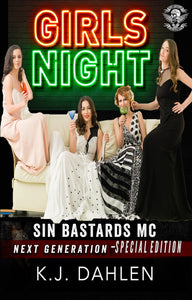 When the little things get to be too much for the ladies of the Sin's Bastards MC, they decide to take a whole day off. They tell their husbands they are in charge and they leave everything in their capable hands.
The ladies go to a spa for some much needed me time and they try not to worry how the guys are handling their children. Between panicked phone calls from the club, yummy margaritas, girl talk and hot oil massages—the girls finally are able to breathe for at least, a little while.
While at home…chaos rules as the kids run wild and the guys learn the hard way—to appreciate their women.