899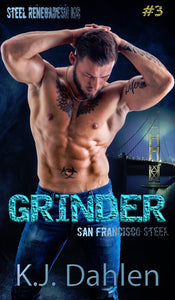 Grinder
We're being hunted, my MC and me. There is a killer after us and he's got friends
Then I see a woman in our backyard. I grab her up just before Anaconda's men get to her. She isn't hurt but she too, is being hunted by this killer.
She's got something he wants, an old pirate's journal. He thinks it's a treasure map and wants to claim the treasure he left behind a hundred years ago.
She's also got more information on Anaconda then he knows, information that can bring him down once and for all.
We have to protect her to protect ourselves. It's up in the air who is going to win this fight
Andrea
I came here to find more of the story I was working on. By going to the beach that morning, I put myself in danger I didn't realize.
When he grabbed me and took me inside the gate, I felt a spark of something I'd never felt before. Then he told me what was going on. I was stunned. I had stumbled into a nightmare.
With my help, they began putting the pieces together of what was going on and who was behind it all.
Can we all survive this tragedy without spilling blood? This bastard Anaconda, doesn't seem to think we need to stay alive, but Grinder and his men are determined to prove him wrong. Whether we survive or not is in the hands of fate and Karma is going to slap someone down hard.