899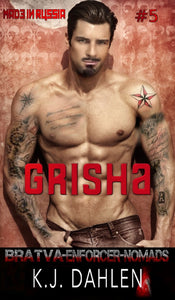 RELEASE DATE: FEB. 22nd

The Bravta Enforcers

Ivan is their interpreter when needed, and the muscle. Adrik is the IT and weapons expert. Deter is an expert in camouflage, geography, and trail hunting.. Matvey is a medic among many other things, such as a point blank sniper. Petrov is tech, alarms, hardwiring computers, surveillance equipment.
Grisha is the man you go to when you want weapons or when you need to blow stuff up. He's an expert in weapons and explosives, ground and air tactics. He is also a decoder, specializing in solving codes. Solving puzzles and this is why, he Deter and Matvey are summoned to New Orleans.
They are to assist Yuri Anatoly and his wife Raven in some endeavor that involves some mystery map or puzzle. Grisha was just happy to have a new assignment. Working as an Enforcer was always exciting.
Then the real excitement starts when he finds a woman injured near the boat owned by Raven's friend.
The minute she awakes and gazes into his eyes.... he knew his life would never be the same.
But...this may be one puzzle that blows up in his face.