899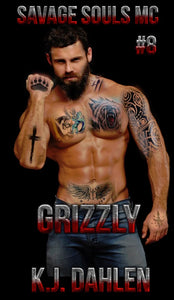 IS LIVE NOW
Grizzly
I've seen the worst of the worst and I'm sick of fighting a battle that I can't win. I'm a US Marshal. I'm also a member of an MC and a biker. I love being both, but its time to finally choose my path. I chose to be alive and breathing, so I walked away from being a Marshal.
I went back to the Savaged Souls MC. I didn't know it but a small piece of my past followed me there. The son of a man I put on death row is trying to intimidate me but he should know better. I'm six foot six inches tall and 325 pounds of mean and stubborn. He should have known better than to try.
The man sent in an innocent. He must have known I wouldn't hurt an innocent. But he made a mistake in coming after me in the first place. Now I'm coming after him and there isn't a rock big enough for him to hide under.
Now the man is going to learn the hard way, how and why they call me Grizzly and he'd better run. As a Marshal, I worked alone but now I got the MC behind me, yeah he better run because the Savaged Souls are coming for him.
Teddy
My world crashed and burned the day my mom betrayed her family. Now her boyfriend tells me he'll kill my dad if I don't kill the man who sent his dad to death row.
I know what my dad would want me to do, but I can't just walk away from him. His family was proud in the fact that they proudly served their country and I was next to follow their dream. I couldn't turn my back on my dad.
But I couldn't do it. I couldn't just shoot another human being for no reason. I tried but I was happy to miss my shot. I wasn't happy when my target fired back and I took a bullet though. It wasn't like I didn't deserve it but I knew in that moment… my dad was a dead man.
Next thing, I know this giant of a man is rescuing me. He wants to help but can I trust him? Do I dare try?