899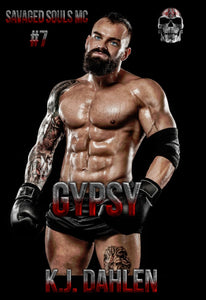 Gypsy lost his whole world years ago. Nothing made him feel much anymore. He'd thought being a Savaged Souls Member would help to ease the pain and make him want to live again. It hadn't. Even though he loved his brothers and the club had become everything. He even thought about moving on and leaving.
Then he found Inez, the poor girl was trying to steal his bike. He took her in. The club then knew they had stepped into a hot mess with this girl. Gypsy knew this as well, but he found he did not care. He also found his heart was still there, beating in his chest...because of this woman.
When someone tries to kill her, not once but twice, can he save her life and save his own at the same time?