899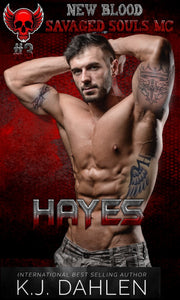 Hayes
Life sucks sometimes and when you walk away from your family, hindsight is all you have left. I left my little brother behind and both of us lived to regret that mistake. But I had to learn to take care of myself before I would be able to take care of him too. Then I left it too late.
By the time I was contacted by the social services, it was too late to save him from going through hell, but I never gave up on finding him. I looked for six long years. I could feel him calling out to me from wherever his mother hid him, he needed me, and I wasn't going to let him down a second time.
Then I found him and the rage inside me grew. I'm going to be karma's fist when it comes for the witch who birthed him. Me and DJ… we're a package deal now and it is through that I find the one woman meant to be mine. Call it fate or whatever you like, but I know this woman is mine, but she comes with her own baggage. Can we find a way to meld into one big happy family? Because I want forever with her and I'm going to get it…
Calista
I had a good life once upon a time, then I fell into and endless sleep. I slept for seventeen years while a madwoman raised my daughter. A daughter, I barley remember.
When I wake up finally, I find a man who claims me but I don't know him… I barley know me. I've missed an entire lifetime and everything that happened to me over the years has left more questions than answers. And just when I'm getting used to having an almost grown daughter, my baby daddy's parents come and try to snatch her away from me…
I can't let her go, I need her as much as she needs me but they have the law on their side and I'm just lost. Hayes steps up to defend me and my daughter—then comes in a surprise that blows everyone out of the water…