899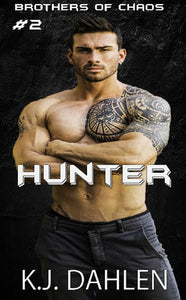 Hunter

The Brothers of Chaos MC saved me at the lowest point in my life and now, I'll protect it and my brothers with my blood sweat and tears to the very end of my life.
We were on a mission of justice and a little bit of revenge. She was just looking for answers and her sister. She'd been looking for her for a while now and she needed answers.
Our eyes met over the battlefield as I fought my way to where she'd fallen and I knew I had to pull her out of the thick of the battle.
I don't know what it was about her but I needed to find out. I might have to fight the fates to keep her but I was willing to do that. I'd never met anyone before whose eyes glowed upon first sight and if I missed this one... I might never have this chance again.
Sabrina
I came to the enemy's camp to find someone I thought was lost. I hadn't heard from my big sister in literally years but there was no sign of her here.
Then I  got caught in a clash between clubs. Both sides were shooting and a stray bullet found me. I thought I died and went to heaven when I found my own angels on that battlefield.
He saved more than my life that day, he saved a small piece of my soul. I didn't know whether to laugh or cry when I opened my eyes and all I could see was his eyes.
Then I felt the pain and saw the blood and wondered if this was hell. Would he save me or would I die on this piece of dirt in Texas?
I was afraid to let him go in case it was all a dream but then he wasn't letting me go either. Was this my fate?