899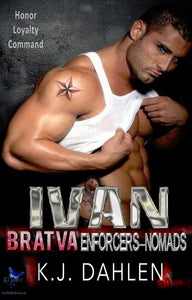 MAY 22nd Release
BRATVA ENFORCERS NOMADS
BOOK TWO
IVAN
I'm a Bratva Soldier trained by Sergi Constantine himself. I have been Bratva since I was a teen.
Honor, Loyalty, Command.
The words we live by.
I am an Enforcer. A part of the most elite team in the world. We are sent to carry out Bratva Justice. When we come into your life…it will change your world forever.
This mission seems to be the same as all the others. Seek out a Bratva Mafia head that has committed crimes against the Bratva Realm. Take down his empire, burn his entire world down. Bring him back for a swift execution in Russia.
Seems simple enough.
It isn't.
 One woman gets in our way…
A woman that literally takes my breath away—a woman that I will never forget.