899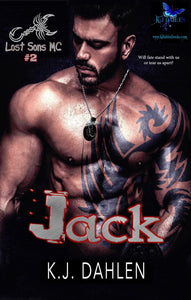 Lost Sons MC #2
Will fate stand with us or tear us apart?
Jack
I'm a man who knows what I want and I go after it.
I know Kalinda is the woman for me, but can I draw her into a feud no one can win?
She gave me her heart and soul and even if she doesn't know it, she has mine too,
When trouble comes to take her away, nothing will tear her away from me.
Come hell or high water this woman is mine…
Kalinda
I was lost until I met him
He makes me feel safe, something I've waited for most of my life.
Now my past is coming to lay claim to me and mine.
I can't lose what I've got with him, it would be like tearing my own heart out.
I have to face my past before I face my future.
When the dust settles… where will fate leave the two of us?