899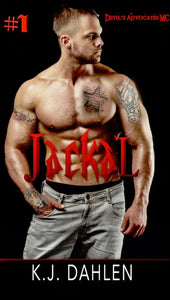 JACKAL
DEVIL'S ADVOCATES MC
BOOK ONE
I found her alongside the road, thrown away like trash. Barely alive, she fought for life.
I knew the moment she opened her eyes that she was the woman for me, but she needs more from me than just love. She is a hunted woman with death on her trail.
Through her, my MC gets the heads up on some nasty plans to wipe out The Devil's Advocates and The Kings. She also reveals a secret that lies in our own compound. A secret two desperate men will kill to protect.
I call in the best MC that I know. Hell's Fire Riders MC to battle by our side.
Can we all survive the attacks from our enemies?