899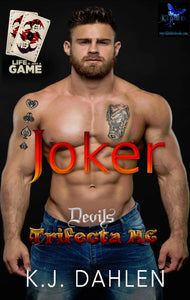 RELEASED MAY 1st
BOOK TWO
IN DEVILS TRIFECTA MC SERIES
Joker, The VP of the Devils Trifecta...

I have always been carefree. I live the MC life to its fullest. To me, life is just a game.

One, I intend to win...

For the last year, the Devils have been on a mission for the President of our club, Gage. To exact Justice for the murder of his family. In the end, we got it. Also, in the end, we have joined in a journey to stop yet, another killer.

I meet his next intended victim, Brandi. When I do, my heart seems to stop. I cannot let this woman die at the hands of a monster.

This time, I have a mission and my MC brothers have agreed to help me.