899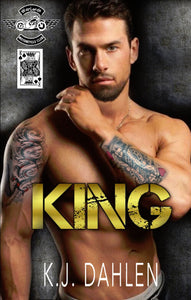 RELEASES JULY 13th
The much awaited Book Two for the Warlords MC
KING
WARLORDS MC
My name is Tremaine Bridges, but I go by the name of King.
My brothers and I are In the Warlords MC, on a mission to find a killer. After an explosive ending of the troubles in Braaken Ridge and finding our little brother Joker, I follow the trail of Oscar, the only suspect we have found connected to the murder of our Captain and his family four years ago in a home invasion.
We trail the man to another town. Then things take another twist when I find out the truth of what happened all those years ago.
I also find a woman that I cannot forget. Is she involved with this killer in some way? I need to find out before things get out of hand.
But I cannot resist her and I feel the need to free her of the nightmare haunting her.
Has love finally come to the King?