899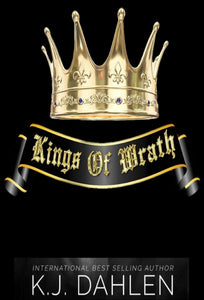 Pride
I realize I might have a stalker. I can feel someone watching me. The only thing is I don't feel threatened but it is disconcerting. Then I find out who's watching me and I have to make a choice…
CandyMan
When we raided one of his camps, we found her, broken and bloody. When we heard her story, we realized the threat from Dmitre was worse than we had thought. Death would be coming for us all.
Rage
 My brothers and I will stand up and be counted, for every member of the Kings of Wrath and the Bratva in New Orleans. But not only are we battling on our own home ground we have to carry this battle all the way till death.

Scar
As the Enforcer for the Kings, I'm not the most liked man among the brothers but I don't care, it's my job to watch their backs and that's exactly what I do. I watch their backs.
Romeo
The first time I saw Jules, she was pointing a gun at my head. Only it wasn't me she was shooting at, but the man who was aiming at my back.
Cosmo
Trouble on two very different fronts from two very different men for two very different reasons. But I know one thing, I'll be damned if I'm giving up on Lovely. She's mine to protect and mine to claim.