899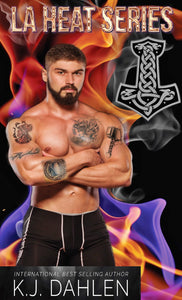 THE SAGA Of THOR'S HAMMER MC
SIX BOOKS 558 pages of pure HEAT
Ajax/ President of Thor's Hammer MC

I've been waiting for eight years for this day, the day my brother's killer comes home from prison. Now I'll get justice for my brother. But when I go to confront her, she surprises the hell out of me.
For eight very long years, I believed she did the deed but what she's got to tell me makes sense. Her side was a story she never got to tell before in the hurried sham of a trial she got.
We find that a wealthy Tyrant, the head of the Zetran Family is responsible for his death and many other horrible crimes.
It will take all of us to burn their legacy down to ashes....