899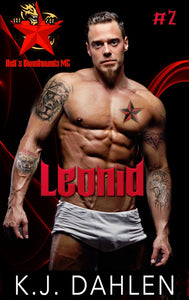 Leonid
As a member of the Hell's Blood Hounds MC I am second in command, I also have strong ties to Russia. Well I used to. The Konovic family nearly wiped out my entire family before the Bratva found them out and put them down.
Some day we might go back and claim what is ours to claim but for now we live here, where no one tells us what do or how to live. Then I get a visit and a request from an elderly uncle. As part of the older regime of the Bratva he had visited this area in the past.
The old ways are long gone but not everything has been forgotten it seems. There is a place near us that was used during the Cold War when Russia was considered an enemy. This place has evidence that could rewrite our history as an ally to the US. My uncle charges me to retrieve and in turn destroy it before it is discovered. Then my uncle warns me I may not be the only one after the evidence. There has been a threat from inside our great nation and it's credible.
Now it's a race to see who can get to the evidence first, me or them. Then I meet the new owner of the farm I need to go to, to do my uncle's bidding and the meeting ends in a shooting. Not a great start but I'll take it. The shooter just upped the game and I play for keeps.
River
The day I inherit my grandfather's farm I go to see it. I never knew I had a grandfather as my mother never told me she had family. When I lost my parents years ago no one came forward to claim me, so I was unaware I had family out there. The attorney told me my family was complicated and left it at that.
When I get to the farm there is someone else there already and moments later someone starts shooting at us. What in the world is going on here? When the rest of his friends show up I find myself surrounded by bikers. I'm not sure which scares me most, bullets or bikers. Guess I'll find out.
Then I discover the complicated part of my family and I want out. I thought finding I had family meant I had ties to someone else in the world but these ties could get me killed. But Leonid won't let me leave now. He claims I now have a target painted on my back.
I have to stay and see this through, my mama didn't raise a quitter. I needed answers so I'll stay. Good, bad or otherwise…. this is my family.