899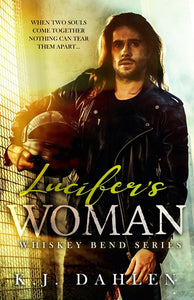 Lucifer's Woman (Whiskey Bend MC Series, #1) by Kj Dahlen
Lucifer's Woman
  When two souls come together nothing can tear them apart…
Lucifer
Out of the ashes of a life I once held dear,
I was born. They call me Lucifer but I earned the name I was given.
Strong willed. Vicious. Tried and tested…
Never met a match I couldn't handle.
Like iron forged in the fire, my body gets stronger.
She saved my soul.
Just a glance was all it took.
And I knew she'd be my salvation. My future.
The woman belongs to me, and only me.
To lose her now would be a death sentence of its own kind.
Jessie
He's a man they call the devil himself,
In him, I find a missing piece of my heart.
Now, our souls are touching - connected in a way I don't understand.
He blocked out every fear I faced. In its place, I felt a safety I've never known.
Now doubt is creeping in…
Just before Lucifer finds me, I find another's secret.
A secret I need to expose.
Now, a madman thinks he owns my fate.
He'll kill me to protect the secrets in his soul.
I pray he doesn't break me until Lucifer tracks us down
He'll fight the evil that took me. But how do you fight what you can't see?
Time is ticking…will fate be kind to the woman who's already lost everyone who meant anything to her?
Available In:  KINDLE, EPUB & PDF