899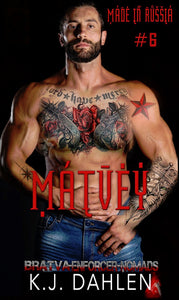 RELEASING OCTOBER 31st
Matvey
Being a Bratva Enforcer Nomad was what I was, or so I always thought. My past was just that my past, and it had no bearing on my present or my future. I was in charge of that, wasn't I?
Then I found out I was safe as long as I didn't ask questions… questions I needed answers to. But when I couldn't wait any longer, the questions I asked put my Bratva brothers in danger. In danger from a man we never thought would turn on us. A man I never knew… wanted me dead…
Then I met her by accident, running from an ambush that had been set up to see me dead. Now both of us must run for our lives
I've gone too far now, to let the truth be silent anymore. I needed to know what happened twenty five years ago and I wasn't going to stop until I knew everything. I just hoped I would live long enough to get some justice. And the girl I claimed as mine.
Verna
When I witnessed someone I didn't know get shot, I thought my life was over. I didn't see the shooter's face only the red star tattoo on his hand. When the shooter gave chase, I had to run for my life. While I was running away, I took a bullet but I got away in the darkness.
I knew I had to stay gone or risk the shooter finishing the job. He knew I was out there somewhere and I was the only witness to a murder he committed.
Then I ran into HIM, Matvey. I wasn't sure if that was a good thing or a bad thing. One thing I did know, I had to keep my own secrets or risk death. Only Matvey and his friends wouldn't let me go.
Then I find out they are looking for a man with a red star on his hand and I'm ready to run again. I already carry one bullet with me from that killer… I don't need another.