899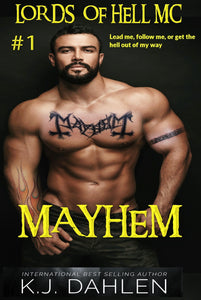 Lead me, Follow Me, Or get the hell out of my way-
That's our motto and the creed we live by, that's me- and I'm one of the Lords of Hell MC. When my bike is stolen, we look for three days before the fourth day comes and the bar it was stolen from, calls me to tell me its back.
The bike holds a clue as to where it has been and we go to find a young woman there whose holding a shotgun to my belly, standing over a fresh grave. My brothers get the drop on her before we find she's been hurt and we take her back to the clubhouse to get some answers.
What we find out has us completely stumped. Something nasty has been going on right under our noses and we didn't even know it? It doesn't seem possible but it could be true.
All we know is we have to stop it once and for all.