899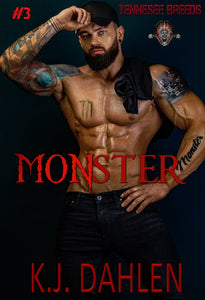 COMING JAN. 15th
TENNESSEE BREEDS Book #3

Monster- Enforcer For Rebel's Blood MC

I am a large man with my own ways. I believe in a few things....

My strength.

My MC.

My ability to cut through the Bull Sh*t.

Some find me intimidating, fierce and some just call me an As*hole...Not to my face, of course.

While taking out enemies that were about to destroy the Rebel's Compound, I caught sight of something or rather, someone...

Chasing this person down, I got a huge surprise and my whole world literally.... tilted.