899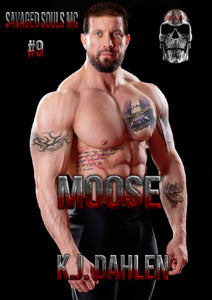 RELEASED NOVEMBER 11th

I won't lose her. I've been looking for her most of my life.
Moose
I would do anything for my club, The Savaged Souls MC. I believe in what they do and I will live and die by them.
On one of our runs, I found her. She's hurt and she's been traded to the cartel to be sold over the border. I'm not going to let that happen. My gut tells me this girl needs me and I always listen to my gut.
She belongs to me, now all I have to do is convince her. I can't—no I won't lose her. I've been looking for her most of my life.
Then her daddy comes looking for her. He's the bastard who sold her to the cartel. I'll break him before I'll let him near her. She's mine now and I don't share with anyone.
Brinn
 I met him at the worst possible moment in my young life. I was down as far as I could go. I heard him come into my prison but I wasn't ready for him. I looked up and was shocked when I saw his silver gray eyes.
Something inside me tells me he's mine and I'm his but I'm afraid to believe in that. My life went to hell ten years ago when I met the man claiming to be my father. Him, I could have gone my whole life without meeting. My father brought nothing but pain and terror into my life.
This man Moose, wants me to trust him but I don't know if I can. I want to, but I learned not to trust a long time ago. He offers me more than I've ever had in my life before. Then he tells me all I have to do is reach out and take it.
Just about when I'm about to reach out and take what I want, my father comes back for me. I want to run and hide but Moose tells me I need to stand and fight for what I want. My father can crawl back into the dirt he came from. I have to get the courage to stand up for what I want, and I want Moose.
Heaven help me I want Moose—and I'm ready to fight for the chance with him.