899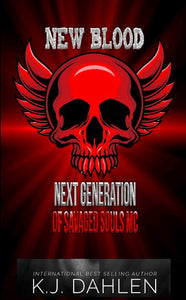 Book 1 Thru 6 New Blood Savaged Souls MC
Arrow
When I come to try and find my stepsister, I find more questions than answers and someone in the town doesn't want those questions answered. Then I find something else as well.
Beau
I have a history with the Savage Souls…once upon a time I was one of them, then I lost my way. I left rather than be kicked out, but I left to find myself again. And I did. I found my old self but I found that I had changed over the years.
Hayes
Life sucks sometimes and when you walk away from your family, hindsight is all you have left. I left my little brother behind and both of us lived to regret that mistake. But I had to learn to take care of myself before I would be able to take care of him too. Then I left it too late.
Runner
When you're young and dumb, you only get one chance at a do over and the choices you make reflect on your own future. I made a choice when I got out of juvie jail and I don't regret it. I hooked up with Hayes, Acer and Stomper, then we found a man named Beau.
Acer
When some women came to us with a story of an underground railroad to help women in need – I recognized one of them as a woman in trouble. Her name was Pearl and I knew or thought I knew she did something bad. Now she was here and I had to know why someone she was with died by violence.
Duke
They still have work to do to keep Pearl safe from her family. They have one more man to bring down and he could be the worst of the whole bunch, but Duke and his brothers step up to hunt the man down. The closer they get, the more dangerous the mission becomes.