899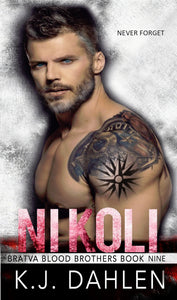 BOOK NINE IN THE BRATVA BLOOD BROTHERS SERIES
NIkoli
The man who trained the blood brothers and brought them to America. He has watched them thrive and  create families.
Now his past that he vowed to never forget has come back and will meet his future. When a killer tries to take it all away from him a second time, will he defeat this danger?
Can he attain the same happiness as the Bratva Blood brothers?
Or will he remain alone like he has for all these years?